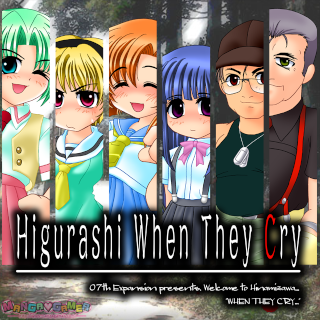 With Mangagamer's english release of Higurashi no Naku Koro ni (Episode 1 to 4), users quickly corrected most of the mistakes and also enhanced the Mangagamer's version of Higurashi.
Obviously I won't post a torrent for Mangagamer's release here, you can buy it here anyways : http://www.mangagamer.com/allages/Titles/Details/DB2324F5-8829-455B-B75B-93C14A560794/higurashi-when-they-cry
Here's a bunch of patchs I found around, most of them from 4chan's /jp/.
[X] Hide ugly UI (COMPLETE)
* http://www.mediafire.com/?g50yyddlwz1
First, a patch to hide the UI, made by Anon. "I just made a patch. Extract these files to your higurashiwhentheycry folder. Be sure to set the right-click function to show menu instead of hide frame."
[X] Replace ugly font (COMPLETE)
* http://www.mediafire.com//?jvzjzhyjwwm
From the same Anon (I think), a patch to replace the font with Consolas.ttf. "What the hell, I might as well knock out the font hack while I'm at it."
[X] Music patch (COMPLETED, BUT MORE CAN BE DONE, READ FURTHER)
* http://www.mediafire.com/?dhuunoxtinz (Himatsubushi-hen version, full 4 chapters)
* http://www.mediafire.com/?nmyimymm4vy (Demo version, music from 1st chapter only)
QUESTION:"Why would I use this? the music from MG is better!". ANSWER: Better is subjective , but more importantly, MG release has fewer tracks. They were too lazy or didn't have enough music, so they went and replaced VARIOUS tracks with the SAME track, in multiple occasions, which is just butchering the game. For example Rena and Mion don't have their own music themes in MG release. This adds variety again to the soundtrack.
There's two patches, one that replaces the music with the Himatsubushi-hen soundtrack (the repack of chapters 1-4) and another that uses the music from the demo (so this version it's only up to chapter 1). If someone has the soundtrack that matches the demo (which I prefer), please post it so we can complete patch two.
This is a test version and is not tested throughly. If you note anything weird, please let me know.
[X] Cracked exe
* http://www.sendspace.com/file/ansuzz
Last edited by Sui on Sun Jan 10, 2010 6:12 am; edited 3 times in total
Desu





Posts

: 53


Join date

: 2010-01-07



[X] PS2 sprites and background patch for Higurashi PC :

* http://www.megaupload.com/?d=HY02AVZ0 (1.0)
* http://www.megaupload.com/?d=ABZFNMQ3 (1.1)

The patch will replace all of the sprites and approximatively 80~90% of the backgrounds.
The reason being that most of the PS2 backgrounds (which are drawings) attempt to imitate the original photos, but a lot of them are different, or even missing (e.g. toilet photos, geh). I tried my best to find fitting replacements for those, but it was just impossible in some cases. Hence I sometimes left the original BGs untouched.

Just paste data02000.arc into your Higurashi folder. Don't forget to do a backup of the original data02000.arc beforehand.
The patch will replace all of the character sprites and approximatively 80% of the backgrounds.

Version 1.1 corrects all of the problems signaled in http://archive.easymodo.net/cgi-board.pl/jp/thread/S3931514, plus some other ones. I rechecked every picture one by one, there shouldn't be any complaints anymore. The only "flaws" remaining are the original, photo-like backgrounds that I left as they were, because the PS2 game lacked equivalents for those. I can't do anything about that.

PS2 sprites-only patch v1.1 :
http://www.megaupload.com/?d=7W2HQLU4

PS2 backgrounds-only patch v1.1 :
http://www.megaupload.com/?d=M7DXYXQE
Desu





Posts

: 53


Join date

: 2010-01-07



There's also a sound effects patch. But I don't have the link handy right now. I'll see if I can find it.

Oh, right. Here.
http://higurashifix.wikia.com/wiki/Sound_Patch
Ushiromiya BEEEEAAAAN





Posts

: 74


Join date

: 2010-01-07


Location

: Meta-World



hey, hey. /jp/ fixed most of the typos.
http://editorashi.freewebhostx.com/
Ushiromiya BEEEEAAAAN





Posts

: 74


Join date

: 2010-01-07


Location

: Meta-World




Similar topics
---
Permissions in this forum:
You
cannot
reply to topics in this forum